It started with a child's wish...
Ben's interest in immersive technologies can be traced back to his childhood.
​
Virtual Reality first sparked his imagination back in the mid-1980s.
As a young child growing up in Nottingham, Ben's two main interests were acting (he first appeared on stage aged five) and computers.
​
At that time, one of his favourite TV programmes was the BBC's former flagship technology programme, Tomorrow's World (his other favourite shows were The A-Team, Air Wolf and the innovative visual effects-heavy kids gameshow Knightmare).
It was during an episode of Tomorrow's World that he first saw a prototype of the technology that we would come to know as 'Virtual Reality'.
Young Ben gazed in wonder at the screen as he realised what the new technology could mean; it would be an opportunity to finally explore the worlds that had so far only existed in his imagination and in the text-based Choose Your Own Adventure Book-inspired computer games he had painstakingly coded line by line to play on the family's Spectrum +3.
​
This technology was nothing short of a dream come true!
​
Today's World
​
Fast forward thirty plus years and Ben felt the same childhood wonderment reignited with news of the resurgence of Virtual Reality technology and the unveiling of the early Oculus Rift.
​
That was it - Ben (now married with a son and living in Surrey) set out to learn as much as he could about the new immersive technologies and support others to access, understand and use these new technologies to unleash their creativity.
​
The timeline below reveals some of the highlights from Ben's story that led to the creation of bright immersive Ltd:

Use the links below to jump to a time period
Eager to share his delight with others, Ben runs a short training workshop for members of his theatre group (Quick Fix Theatre), other local actors and storytellers, all about the future of performance and immersive technologies.
The response and interest was overwhelming - particularly from artists without an IT background.



With calls to run more workshops and extend the range of topics covered, the seed of an idea for creating bright immersive was planted.
After decades of waiting and years of following the progress of immersive technology, Ben buys his first VR compatible computer complete with, Oculus Rift and Oculus Touch.
​
It's everything he hoped for and so much more!
Ben joins DNEG,

a global and multi Oscar-winning, Hollywood Visual Effects (VFX), feature animation and 3D conversion company, where he applied and enhanced

his knowledge of the latest developments in Virtual Reality, Virtual Production for movies and the latest computer graphics technologies.
​
He also learnt from Hollywood filmmakers about professional VR video creation (360-video) and more generally about the power of immersive technologies to transform the future of film, TV and storytelling.
He wins a commission to research and write a piece of community theatre to mark the centenary of the end of the First World War.
As well as being the Creative Director for and performing in the production, titled:

"Four Families of the Fallen"

, Ben produced four accompanying short 360-video / VR videos of the live performance. This was his first opportunity to work with and direct live actors for immersive VR/ 360 video.
​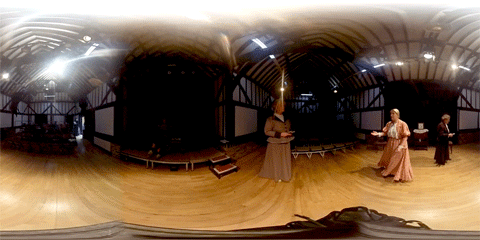 An intimate theatrical performance with the audience on three sides of the stage, 'Four Families of the Fallen' was an opportunity to experiment with taking community theatre into the digital immersive space.
As Chair and Creative Director of

Quick Fix Theatre

, Ben devises and leads his second community performance. This time focused on promoting the heritage of the Surrey borough of Elmbridge as home of the world's first ever movie recording of

Alice in Wonderland,

which was made by the pioneering filmmaker, Cecil Hepworth in 1908.
Ben heads up internal and external communications for two FTSE 250 financial services companies. His work included developing and rolling out new intranets and websites, promoting key FinTech projects and providing communications strategies for large organisational and regulatory changes.
He creates and publishes his first full Computer Graphics (CG) 360-degree VR experience:

Q.R.A.
Inspired one of his first stage plays and real events, the experience puts the viewer into the body of a Royal Air Force fighter pilot who is forced to make the biggest decision of his life.
To date this has been experienced more than 1,500 times.
Created with Open Source and free 3D modelling, computer graphics (GG) and sound editing software, Q.R.A gave Ben a platform to discover what it takes to make an immersive experience.
Ben becomes a founding member of a new community theatre group called Quick Fix Theatre. He devises and oversees production of the group's first community theatre project, which was designed to promote the Surrey borough of Elmbridge's filmmaking heritage.

Titled

The Imposter, t

he open-air performances took place at summer fetes across the borough. Each free show gave the viewing public the chance to step back in time to a golden age of silent movies and into the shoes of the unsung local pioneers of British cinema. Audiences were encouraged to use their smartphones and an App that gave video a silent move effect to record and produce their own silent film, based on

Quick Fix Theatre's

slapstick performance.
In his free time, Ben completes a foundation diploma in screenwriting and and an evening school foundation course in fine arts.



He also attends weekly acting classes for adults.



Between 2009 to 2010, he writes plays and supports other local community theatre initiatives.
In 2007, Ben moved to Surrey where he continued to work in corporate communications, supporting a range of businesses, including: the business software giant SAP and the Olympic Games London 2012 sponsors WS Atkins Plc, to create and tell stories that engage audiences. He enabled the companies to get the most from new opportunities using social media and audio visual communications.

This also included early augmented reality and live mobile video streaming.
​
His pioneering work to bring to life an internal event as a global multimedia experience won an award for Innovation at the 2009 IVCA Awards.
After a break from acting, Ben is once again bitten by the bug and joins Nottingham Cooperative Arts Theatre, where he participates in weekly improvisation 'jamming' sessions.
As an innovator and pioneer of communication technology, while working as part of the communications team at Nottinghamshire Police in 2006, Ben enabled the force to become one of the first – if not

the

first – UK constabulary to use a then little-known online video website called

YouTube.
He enabled the force to use the platform to
communicate directly with the public - instead of relying on traditional media - about police news. This included the opening of a new police station (a video, that he wrote and produced) and publicising the results of successful police operations.
Ben develops websites in his spare time and lears how to create web animations and infographics using Flash.



He also establishes
Defencenet.co.uk, an online news website specialising in Defence industry matters.
In 2003, he creates an interactive world map (built in Flash) to illustrate the global build-up of military forces ahead of the second Iraq war. This proved to be one of the most popular items of content on the site.
In 2003,

after

completing a post-graduate diploma in Newspaper Journalism at Nottingham Trent University, Ben joins the Derby Evening Telegraph as a reporter.
Summer 2001, Ben graduates from Cardiff University with a BA in

Journalism, Film and Broadcasting.
He splits his final year between his studies and full-time volunteering as a news editor for the university's award-winning weekly student newspaper.
With dial-up internet access enabled at his childhood home, Ben borrows a library book and teaches himself how to write HTML and create websites.
As a teenager, alongside acting and creating computer games, Ben develops an interest in filmmaking and stop-frame animation.
With money saved from a paper-round, he buys his first camcorder and uses to produce animated "movies" on a shoestring, using toys and models.
His productions include an "original" sequel to the classic aviation action movie

Top Gun. Ben's

version featured rudimentary one-take, special effect for the dramatic ending, which saw an AirFix fighter jet turn into a fireball of molten plastic as it crashed into a pile of BBQ firelighters.
Aged 11, Ben got a taste of an actor's life when he successfully auditioned and joined the professional cast for a month-long run of Damon Runyon's gangster comedy

'A Slight Case of Murder' at

The Nottingham Playhouse.
Aged nine, Ben and his family make the long trip south from Nottingham to Shepperton Studios near London, for his first TV appearance, which was in a

Smith & Jones

comedy sketch for BBC TV.

But for Ben the best thing about being on TV, was that it meant his Dad would have to fulfil the promise of renting a Video Recorder (VCR) from

Radio Rentals

to make sure the family had a record of his first TV appearance!
An avid TV viewer from a young age, Ben first glimpses Virtual Reality technology in an episode of BBC TV's

Tomorrow's World

.
When not attending school, drama lessons or rehearsing, Ben spends time creating simple computer games - inspired by

Fighting Fantasy

and

Choose Your Own Adventure-style

books.
He writes games in BASIC and plays these - alongong with professionally made games - on his Spectrum +3: 128KB home computer.
As a youngster growing up in 1980s Nottingham, Ben was bitten by the acting bug very early.
He attended his first drama lesson aged four (and a half). And the following year, stepped out onto the stage at the city's prestigious Theatre Royal aged just five -dressed in a homemade

Piglet costume

for a

Winnie the Pooh

sketch.